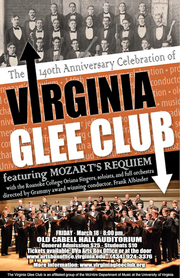 The 140th Anniversary Concert of the Virginia Glee Club was held March 18, 2011 as part of the 140th Anniversary Weekend. Conducted by Frank Albinder as part of the Glee Club 2010-2011 season, the concert featured a performance of the Mozart Requiem, with a guest appearance by the Roanoke College Oriana Singers and solo by Bill Bennett, as well as an opening set of traditional Glee Club repertoire.
The concert program featured a number of articles on Glee Club history, as well as a listing of all known Glee Club alumni.
A recording of this concert is available at the University of Virginia Library.
Program
[
]
Program images
[
]
Sponsors
[
]
Advertisers in the program included Take It Away and Sir Speedy.