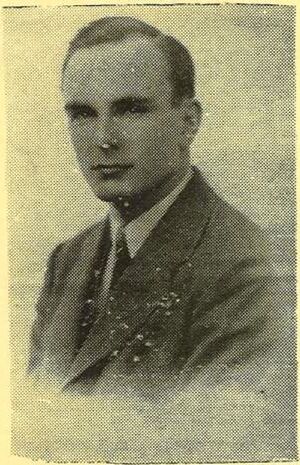 Albert Kirven Cocke (1920-April 12, 2000) was the president of the Virginia Glee Club during the Glee Club 1940-1941 season. A physicist who took an undergraduate, masters, and doctorate in physics from the University, completing his studies in 1943, he was a student of Jesse Beams and participated in classified research on the separation of uranium isotopes using a centrifuge.[1]
Cocke was descended from Charles Lewis Cocke, the founder of Hollins University. He attended Woodberry Forest Academy prior to enrolling at the University, where in addition to his membership in the Glee Club he also was a member of Phi Kappa Psi,[2] elected to the Sigma Xi scientific fraternity,[3] an associate editor of Corks and Curls,[4] and played the Pirate King in a production of The Pirates of Penzance.[5]
After graduation, Cooke was employed at Dupont for 40 years, retiring in 1983. At Dupont he helped create innovative methods for the production of nylon, and helped in developing minority recruitment at the plant.[6]
Community content is available under
CC-BY-SA
unless otherwise noted.