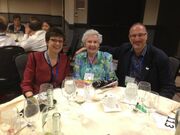 Alice Parker (b. December 16, 1925, Boston, Massachusetts) is an American composer, arranger and conductor. Many of her arrangements were done in cooperation with Robert Shaw.
Composer, conductor and teacher Alice Parker was born in Boston, MA in 1925. She began composing early, and wrote her first orchestral score while still in high school. She graduated from Smith College with a major in music performance and composition, then receiving her master's degree from the Juilliard School where she studied choral conducting with Robert Shaw.
Her life-work has been in choral and vocal music, combining composing, conducting and teaching in a creative balance. Her arrangements with Robert Shaw of folksongs, hymns and spirituals form an enduring repertoire for choruses all around the world. She continues composing in many forms, from operas to cantatas, sacred anthems to secular dances, song cycles to string quartets. She has been commissioned by such groups as the Vancouver Chamber Chorus, the Atlanta Symphony Chorus and Chanticleer; the Virginia Glee Club commissioned a setting of the "Ave Maria" from her in 1994. Her many conducting and teaching engagements keep her traveling around the United States and Canada.
In 1985, she founded Melodious Accord, Inc., a non-profit group which presents choral concerts, sponsors workshops, symposia, and her many professional appearances. The Fellows programs have provided unique training for composers, conductors and song leaders. Her techniques have encouraged a generation of music teachers and choral conductors to think about music and the act of conducting in new ways. No less an authority than Robert Shaw himself has said of Parker that "…she possesses a rare and creative musical intelligence."
She has made thirteen acclaimed recordings, most with the Musicians of Melodious Accord, a sixteen-voice professional chorus. Recent releases include My Love and I; Listen, Lord; O Sing the Glories; The Family Reunion; Angels and Challengers, and the remastered for CD, Songs for Eve. The organization has received generous support from the National Endowment for the Arts, the Copland Foundation, and the New York State Council for the Arts.
Now a resident of western Massachusetts, Parker has published books on melodic styles, choral improvisation and 'Good Singing in Church'. Her detailed analysis, The Anatomy of Melody, was released in 2006. Five videos have appeared, showing her work with hymns and folksongs. She has been recognized by Chorus America, the American Guild of Organists, the American Choral Directors Association, The Hymn Society and Choral Arts New England for her lifetime contributions to choral music. She is the recipient of five honorary doctorates and the Smith College Medal.
Community content is available under
CC-BY-SA
unless otherwise noted.