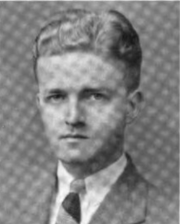 Andrew Rowan Summers (December 15, 1912 in Abingdon, Virginia – March 14, 1968)[1][2][3] was a member of the Virginia Glee Club during the Glee Club 1931-1932 and 1932-1933 seasons. Graduating with a degree in law in 1935, he was also a member of the Virginia Players.[4] He lived in 45 West Lawn[5] in 1934–1935.
Summers was a collector and performer of Appalachian folk ballads, with numerous recordings on the Columbia and Folkways labels.[2][3] Summers was among the earliest musicians to draw attention to the dulcimer to a wider audience outside the Appalachians, with John Jacob Niles being one of the few earlier.[6]
Old World Ballads in America (1940, Columbia Records)
The Unquiet Grave: American Tragic Ballads (1951, Folkways Records)
Hymns and Carols: Early American (1951, Folkways)
"Seeds Of Love" (single, 1951, Folkways)
The Faulse Ladye (1954, Folkways)
"The Lady Gay" (single, 1954, Folkways)
Andrew Rowan Summers (1957, Folkways)
Christmas Carols (1966, Folkways)
Community content is available under
CC-BY-SA
unless otherwise noted.