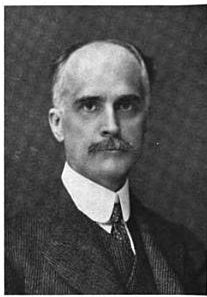 Archibald Williams Patterson (March 22, 1858 in Richmond, Virginia – 1940)[1][2] was a member of the Virginia Glee Club during the Glee Club 1879-1880 season.[3] In 1880, he was listed as a graduate in moral philosophy in modern languages, he demonstrated a proficiency in physics.[4]; his final commencement from the University was in 1882 with a degree in law. While at the University, he was a member of Phi Delta Theta and the Jefferson Literary and Debating Society.[5]
He went into practice in Richmond, then was appointed Commissioner in Chancery for the Chancery Court in Richmond and the Circuit Court of the County of Henrico.[1] Patterson was a trustee of Richmond College beginning in 1902 until his death in 1940. He was president of the board of trustees from 1919 to 1934 and oversaw the change from Richmond College to the University of Richmond.[2]
Patterson wrote a memoir of his recollections of Woodrow Wilson, with whom he sang in the Glee Club. Of their time together, he wrote:
Any account of the lighter and more human qualities of Wilson would be incomplete without some reference to his fondness for music. He had an excellent tenor voice and one of his first activities on reaching the University was to join the Chapel choir and assist in organizing a Glee Club. These were two important institutions. The choir, composed of mixed voices, sang at the regular Sunday services. It was well trained, not only for rendering the hymns, but also for solo work and other special numbers. On Commencement Sunday the program was quite elaborate. But the Glee Club enjoyed still greater distinction. Membership in it was considered quite an honor, and the fortunate fellows received all sorts of attentions not accorded to the voiceless crowd. There were eight of us. In other words, it was an octette, made up as follows:

First tenors—Duncan Emmett, Woodrow Wilson.

Second tenors—Charles W. Kent, J. W. G. Blackstone.

First bass—A. B. Guigon, George P. DuBose.

Second bass—Syl. Stokes, A. W. Patterson.

Most of us knew little about the science of music, but Emmett, our leader, was a fine drill-master, who soon had his recruits doing pretty good work. After a little while we began to give serenades under the windows of certain choice spirits, these nocturnal excursions taking us sometimes to Charlottesville and several miles out in the country. The season closed with a grand concert in the Town Hall. This was really a brilliant affair. It came off on the night of the Final Ball, and all the dancers, attending in full dress, made the occasion a memorable one.[6]
References
[
]