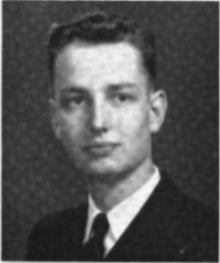 Charles Stevens Russell (born in Richmond, Virginia in 1926) served as president of the Virginia Glee Club during the Glee Club 1945-1946 season, taking over for Charles H. Goodrich, II; prior to serving as president he was the manager of the group during that season. He was also a member in 1944-1945, 1946-1947, and 1947-1948. Completing his undergraduate degree in 1946, Russell was a member of Omicron Delta Kappa, the Raven Society, Corks and Curls, the debating team, the Interfraternity Council, and the NROTC band, and was also president of the Jefferson Literary and Debating Society, editor of the Virginia Spectator, and secretary of the Dagger Society.[1]
Russell practiced law in Arlington and Fairfax until he was appointed to the Seventeenth Judicial Court of Virginia in 1962. In 1982 he was elected to the Supreme Court of Virginia, retiring in 1991, and now serving as a Senior Justice there.  
Community content is available under
CC-BY-SA
unless otherwise noted.