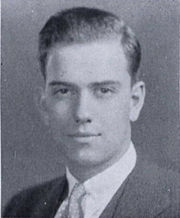 Charles Tilden Hagan, Jr. (April 20, 1913 in Greensboro, North Carolina – October 16, 2009)[1] was a member of the Virginia Glee Club during the Glee Club 1935-1936 season. Having received his undergraduate degree from the University of North Carolina, he was a third year law student during the season.[2]
Hagan was commissioned as a reserve officer in the United States Marine Corps after completing the first platoon leaders' class ever conducted. He was called to active duty in February 1941, serving in Brazil, then joined the 4th Marine Division after the attack on Pearl Harbor. He served at Roi-Namur, Saipan, Tinian, and Iwo Jima during World War II, earning the Bronze Star with Combat V awarded for heroic achievement at Tinian, a letter of commendation, a Presidential Unit Citation with bronze star, and other campaign medals. Remaining in the USMC reserves and rising to the rank of Major General, he served in Vietnam, retiring in 1973 as the highest ranked Marine reservist.
He also was active with the Boy Scouts of America, organizing a sailing ship, the Davey Jones, to teach scouts about sailing and leadership. The base from which the Davey Jones operates is named in his honor.
After World War II, he practiced law in Greensboro, serving as the solicitor (now District Attorney) for Guilford and Davison counties and founding the law firm which became Adams Kleemeier Hagan Hannah & Fouts.[3]
Community content is available under
CC-BY-SA
unless otherwise noted.