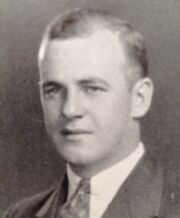 Charles W. Gasque (January 11, 1913 – December 3, 1974)[1] was president of the Virginia Glee Club during the Glee Club 1932-1933 season,[2] and was also a member in 1930-1931, 1931-1932, 1933-1934, 1934-1935, 1935-1936, and 1936-1937. He led a series of big bands, including Charlie Gasque and his Royal Virginians (1933) and Charlie Gasque and the Columbians (1954). A law degree candidate in 1937, he was also a member of Kappa Alpha, and was president of Madison Hall in 1934.[3]
Gasque was also in the US Army from 1943 to 1946.[1]
Community content is available under
CC-BY-SA
unless otherwise noted.