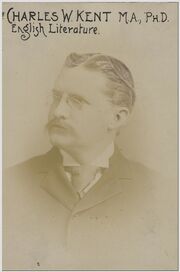 Charles William Kent (September 27, 1860 in Louisa, Virginia – October 5, 1917)[1] was a member of the Virginia Glee Club during the Glee Club 1879-1880 and 1887-1888 seasons. A graduate student in law in 1879, he befriended Woodrow Wilson,[2] and the men pledged Phi Kappa Psi together. In 1887, having received his PhD from the University of Leipzig, he joined the faculty as a licentiate instructor of English and modern languages.[3] He subsequently took a professorship of English and Modern Languages at the University of Tennessee.[1]
When the Linden Kent Memorial School of English Literature (the forerunner of the current English department at the University) was founded in 1892, Kent was its first professor.[4] He also served as editor of the Alumni Bulletin from its beginning in May 1894 through 1898. While at the University, he was a member of the Colonnade Society, the Raven Society, and Phi Beta Kappa, and was active in the Y.M.C.A..[1] 
Community content is available under
CC-BY-SA
unless otherwise noted.