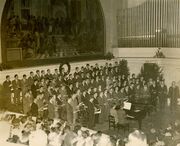 The 1946 Christmas Concert of the Virginia Glee Club was part of the Glee Club 1946-1947 season. The concert, held December 19, 1946 in Old Cabell Hall, was directed by Stephen Tuttle.
Adeste fideles (Essay on the Church Plain Chant, 1782)
Personent hodie (from Piae Cantiones 1582, arr. Holst)
The Hunter (from Marienlieder, Op. 22) (Johannes Brahms (1833-1897), arr. Stephen D. Tuttle)
Les anges dans nos campagnes (18th century French carol, arr. A.T. Davison)
The first Nowell (English carol)
To shepherds by night (German carol, arr. S.D.T.)
Hasten, shepherds! (Galician panxolina de Nadal, arr. S.D.T.)
Recitative and chorale from Christmas Oratorio (Johann Sebastian Bach (1685-1750))
Silent Night (Franz Grüber (1787-1863))
Balulalow (Peter Warlock (1894-1930))
On Christmas night (Sussex carol, arr. S.D.T.)
Salvation is Created (Pavel Chesnokov (b.1877), arr. A.T. Davison)
Joy to the World (George Frederick Handel (?) (1685-1759))
While by my sheep (German carol)
Unto us a boy is born (Piae Cantiones 1582, arr. G. Shaw)
The Twelve Days of Christmas (English carol, arr. S.D.T.)
Hark! the herald angels sing (Felix Mendelssohn (1809-1847))
Community content is available under
CC-BY-SA
unless otherwise noted.