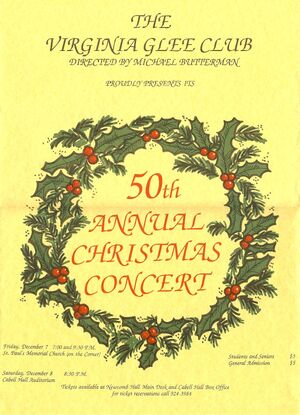 The 50th Annual Christmas Concert of the Virginia Glee Club was conducted by Michael Butterman and was held in St. Paul's Memorial Church and Old Cabell Hall on December 7th and 8th 1990, during the 1990-1991 season. Repertoire included a Schütz motet, and the concert featured a guest appearance from the Virginia Gentlemen. The concert was recorded and published on cassette tape under the title 50th Annual Christmas Concert.
The following program is as listed on the recording of the 50th annual Christmas concert:[1]
Alle, psallite cum luya ; Ave, virgo virginum (Anonymous, 13th c)
Ave Maria (plainchant, mode I, Liber usualis)
Ave Maria (Jacob Arcadelt)
Symphoniae sacrae (Heinrich Schütz) (Todd Stone, tenor; Matthew Benko, baritone; Jean-Paul La Fleur, bass)
In dulci jubilo (Dietrich Buxtehude)
Ave maris stella; Christus ist geboren; Pater noster (Franz Liszt)
What sweeter music ; As I out rode this enderes night ; All this night shrill chanticleer (Halsey Stevens)
Gloria (William Mathias)
Deck the halls (arr. Gordon Langford) (Virginia Gentlemen ; Todd Stone, director)
Christmas song (arr. Peter Knight) (Virginia Gentlemen ; Todd Stone, director)
Twelve days of Christmas (Virginia Gentlemen ; Todd Stone, director)
As lately we watched (Todd Stone, tenor ; Daniel Weigand, baritone)
Jesus, Jesus rest your head (arr. KJ Dinham)
Stille Nacht (arr. Donald Loach)
Local businesses who sponsored the concert included Mane Cut, Rising Sun Bakery, St. Maarten Café, Littlejohn's Deli, Peregrine Travel, Miller's, Timberlake's Drug Store, The Tavern, Mincer's, and The Alumni Association Gift Shop.
Community content is available under
CC-BY-SA
unless otherwise noted.