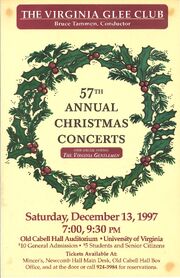 The
57th annual Christmas Concerts of the Virginia Glee Club
, the first with
Bruce Tammen
conducting, were held December 13, 1997 in
Old Cabell Hall
as part of the
Glee Club 1997-1998 season
.
O come, O come, Emmanuel (Plainsong melody, mode I)
Ave Maris Stella (Edvard Grieg (1843-1907), H. Alexander Matthews, arr.)
Sanctus, Benedictus, Agnus Dei from Mass for Three Voices (William Byrd (1543-1623)) (solo trio: Jayson Throckmorton, J. Craig Fennell, Eric Buechner)
Go Tell It On the Mountain (African American spiritual, Marvin V. Curtis arr.)
The Three Kings (Peter Cornelius (1824-74), Enid Hugh-Jones, arr.) (Bill Bennett, baritone)
Jesus, Jesus, Rest Your Head (Southern Appalachian carol, K. J. Dinham arr.)
Lord, Now Lettest Thou Thy Servant (Alexander Gretchaninoff (1864-1956), Pavel Chesnokov and Charles Roepper, arr.)
Audience carol: O Come, All Ye Faithful
Psalm 42, for soloist, chorus, and orchestra, Op. 42, Mvmt 6 (Felix Mendelssohn (1809-1847)) (Louisa Panou-Takahashi, soprano)
Little Innocent Lamb (African American spiritual, Marshall Bartholomew arr.)
selections by the Virginia Gentlemen
Audience carol: The Twelve Days of Christmas
Audience carol: Joy to the World
Ave Maria (Franz Biebl (b. 1906))
Audience carol: Silent Night
Dona nobis pacem (William Byrd, attr.)
Sponsors
Edit
Local businesses who placed ads in the program included Take It Away, Sir Speedy, Orbit Billiards, Littlejohn's Deli, and Mincer's.
Community content is available under
CC-BY-SA
unless otherwise noted.