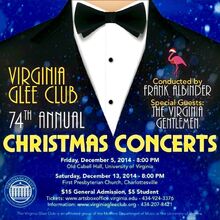 The 2014 Christmas Concerts of the Virginia Glee Club were held Friday, December 5, 2014 at 8:00PM in Old Cabell Hall and Saturday, December 13, 2014 in First Presbyterian Church (Charlottesville). The concerts, part of the Glee Club 2014-2015 season, were conducted by Frank Albinder and featured the Virginia Gentlemen as special guests.
Prior to the concerts, the Glee Club serenaded various stakeholders around Grounds as thanks for support during the year, including Alumni Hall, the McIntire Department of Music, and University of Virginia president Teresa Sullivan.[1]
A recording of this concert is available at the University of Virginia Library. The recording was from the December 5 performance.
Program order
[
]
O Come, O Come Emmanuel (arr.

John Englert

)
Noel (

Todd Smith

(b. 1972), arr.

Brad Holmes

)
Confirma hoc, Deus (Jacob Handl (1550-1591))
In Dulci Jubilo (arr.

David C. Dickau

)
Lux Aurumque (

Eric Whitacre

(b. 1970))
Riu, Riu, Chiu (arr.

Jim Leininger

)
Gleemen (selections to be announced)
Ave Maria (Angelus Domini) (Franz Biebl (1906-2001))
Virginia Gentlemen (selections to be announced)
Nowel (The Nativity According to St. Luke) (Randall Thompson (1899-1984))
Audience Carol: Hark, the Herald Angels Sing (Felix Mendelssohn (1809-1847))
The Christmas Song (

Mel Torme

&

Robert Wells

, arr.

Roy Ringwald

)
Christmas Glory (arr.

Howard Helvey

)
Audience Carol: Silent Night (Franz Grüber (1787-1863))
Dona Nobis Pacem (Traditional)
Program
[
]
Gallery
[
]
References
[
]