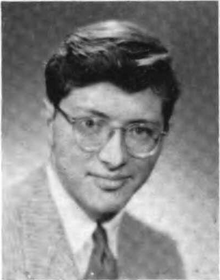 Edward Malcolm Wyatt (March 18,1932 – April 2017)[1][2] was a member of the Virginia Glee Club during the Glee Club 1951-1952, 1952-1953, 1954-1955, 1955-1956, 1956-1957, and 1957-1958 seasons. While at the University of Virginia he was also a member of Phi Beta Kappa, the Virginia Spectator, Phi Eta Sigma, the Virginia Players, and the University Band.[3][4] He lived in 11 West Range[5] in 1954–1955 and from 1956 to 1958.
He studied mathematics at the University of Nancy in 1953–1954 on a Fulbright scholarship.
Community content is available under
CC-BY-SA
unless otherwise noted.