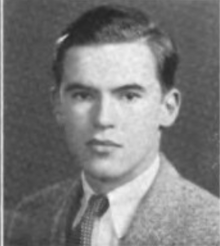 Edward Ryant Dyer, Jr. (February 1, 1918 in Wusih, China – October 12, 1999)[1][2] was a member of the Virginia Glee Club during the Glee Club 1935-1936 season. Graduating in 1938, he was also a member of Chi Phi, College Topics, Corks and Curls, the V Club, and the first year and varsity track teams.[3][4]
Dyer received a masters in astronomy from Vanderbilt University, and served in the United States Marine Corps during World War II. He received his Ph.D. in astronomy from the University of Virginia in 1948, and joined the faculty there, moving to Georgetown University in 1955. He worked for the National Academy of Sciences from 1959 until his retirement in 1983.[5] Dyer is buried in the University of Virginia Cemetery.[2]
Community content is available under
CC-BY-SA
unless otherwise noted.