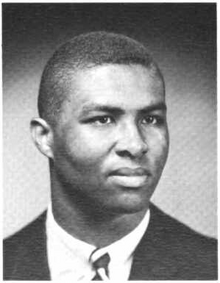 Edwin S. Williams, of Smithfield, Virginia, was a member of the Virginia Glee Club during the Glee Club 1961-1962, 1962-1963, and 1964-1965 seasons. He is believed to be the Glee Club's first African-American member. While at the University of Virginia he was also a member of the Young Democrats and the University Chorale Society. He graduated in 1965 with a bachelors in Chemistry.[1]
Conductor Donald Loach relates that, during the 1964-65 season, Williams was refused service at a truck stop on Route 29. Loach asked University president Edgar F. Shannon to investigate, and he delegated to his associate Paul Saunier. As a result of the investigation, the truck stops on Route 29 were integrated.
Williams and his experience in the Glee Club were mentioned in a 2017 profile of his son, Ben Williams, in UVA Today.[2]
Community content is available under
CC-BY-SA
unless otherwise noted.