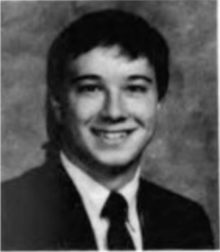 Ellis Butler served as foreign tour manager of the Virginia Glee Club during the Glee Club 1986-1987 season and domestic tour manager in 1987-1988, and was also a member in 1985-1986 and 1988-1989. He was also music director of the Virginia Gentlemen. During his fourth year at the University of Virginia, he was a resident of 5 West Lawn[1].
Butler performed with Rob Seals, a member of the Hullabahoos, as the acoustic duo Seals and Butler during his undergraduate years and occasionally since.[2]
Community content is available under
CC-BY-SA
unless otherwise noted.