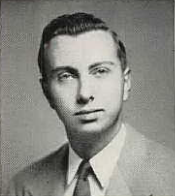 Evans Butler Jessee
(August 8, 1930 – March 4, 2004)
[1]
was a member of the
Virginia Glee Club
during the
Glee Club 1949-1950
and 
1950-1951 seasons
. While a student at the
University of Virginia
he was a member of the
Newman Club
.
[2]
Jessee completed his law degree at the University in 1954 and practiced law in Roanoke, Virginia. He served on UVa's Board of Visitors from 1990 to 1997.[3] His career was ended when he was convicted and disbarred for embezzling about $200,000 from two clients. He was sent to prison for parole violations.[4]
The Virginia Glee Club Newsletter interviewed Jessee when he was a member of the Board of Visitors. The article, written by Kevin Dixon, reported on Jessee's experience in the Glee Club:
  The Virginia Glee Club has always provided a home at the University for those seeking the private gratification of music and the brotherhood of a fraternal organization. This has been true at least since Mr. Evans B. Jessee (CLAS '51, LAW '54), a current member of the Board of Visitors, began to attend the University as a transfer student in 1949. During his stay at U.Va., Mr. Jessee performed with the Glee Club under the direction of Dr. Stephen D. Tuttle, who replaced Mr. Randall Thompson in 1945. At that time, the Music Department was housed in Minor Hall along with the only drama troupe found at the University, the Virginia Players. Club kept itself busy with annual trips to Sweetbriar College to sing with the women's choir, and with a concert at nearby Woodberry Forest, a private preparatory school for boys.


The annual Christmas concert was always a joy for both the University and the surrounding community. Mr. Jessee, a political science major and a second bass who always wanted to sing tenor, recalled the large wreath which hung behind the Glee Club in Old Cabell Hall every year. He also remembers being surprised to find himself in the center of that wreath one evening for a photograph taken of the Club. The 75 to 80 members of the Glee Club also left behind a further legacy of music, recording a 10" record in stereo.

Mr. Jessee continues to enjoy musical performances, though much of his time is currently occupied by his law practice in Roanoke. He still finds time to contribute to the group which gave him fond memories of the University. Mr. Jessee, in addition to his current position on the Board of Visitors, has agreed to participate in the Glee Club Advisory Board. He is a welcome voice in keeping our tradition alive at the University.[5]






References
Edit
Community content is available under
CC-BY-SA
unless otherwise noted.