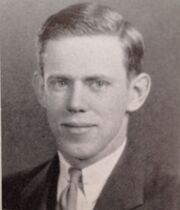 Fontaine Catesby Armistead (May 20, 1915 in Richmond, Virginia – October 1985)[1][2] was a member of the Virginia Glee Club during the Glee Club 1933-1934, 1934-1935, 1935-1936, 1936-1937, and 1937-1938 seasons. From 1935 to 1937 he was also a member of the Glee Club Quartet. He was also a member of Phi Kappa Sigma, Lambda Pi, Phi Beta Kappa, and the German Club, president of the Raven Society during 1937-1938, and captain of the swimming team.[3] He lived in 32 East Lawn[4] in 1936–1937.
Armistead received his Ph.D. in physics in 1942 from the University of Virginia. As a student of Jesse W. Beams, he published several papers on the development of the ultracentrifuge for enriching uranium for nuclear power. He later became the director of the Virginia Institute for Scientific Research.[5]
Community content is available under
CC-BY-SA
unless otherwise noted.