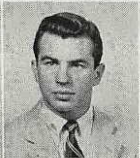 Frederic A. Berry was a member of the Virginia Glee Club during the Glee Club 1952-1953, 1953-1954, 1954-1955, and 1955-1956 seasons. He was a member of the Virginia Gentlemen[1] and lived in 22 East Range[2] in 1957–1958.
Berry received his medical degree from the University of Virginia in 1959 and practiced anesthesiology and pediatrics at the Children's Medical Center of the University of Virginia, with special expertise in craniofacial dysostosis cleft palate, laryngoscopy, and pediatric anesthesia.[3] He retired in 2003.[4]
He currently serves on the Virginia Glee Club Alumni and Friends Association.
Community content is available under
CC-BY-SA
unless otherwise noted.