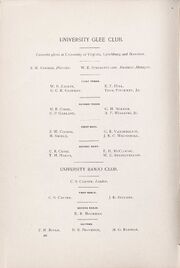 The 1889-1890 season of the Virginia Glee Club saw a reorganization of the Glee Club and its first joint performances with the Banjo Club. The group was directed by Z.W. Coombs; William E. Stringfellow was the business manager, and C. Shirley Carter was president of the combined Glee and Banjo Clubs.[1][2][3]
Performances in the spring of 1890 included a performance in the Public Hall in the Rotunda Annex, and the Glee Club's first shows outside the University, in Lynchburg, Richmond, and Staunton.[4] Funds from these performances were dedicated to the Confederate Memorial Association, which sponsored the repair of the Confederate Soldiers' Cemetery near the University.[5]
The group also performed at the wedding of University professor W. Howard Perkinson.[6]
An editorial in the Alexandria Gazette about the Lynchburg concert gave an unusual window into Virginia perspectives on the Glee Club:
It is announced that the University of Virginia Glee and Banjo Club will give a public concert in Lynchburg one night this week. There have always been some people in Virginia so infatuated with northern customs and fashions that they desired to have them introduced and adopted here. But it has heretofore been supposed that if any part of the State were free from such a desire it was the University of Virginia. Such college clubs as that referred to are peculiar to northern colleges, the students of which not only sing, but serve as the waiters, for money. The Yale Glee Club will do the former in Washington to night. But until now nothing of the sort has been heard of south of the Potomac. The reason of the innovation may probably lie in the remarkable fact, recently made public, that a majority of the professors at the University are Republicans.[7]
First tenors: William B. Eagles, G.C.M. Godfrey, E.F. Hill, Thomas Pinckney Jr.
Second tenors: M.B. Corse, C.P. Garland, G.H. Norton, R.F. Williams
First basses: Z.W. Coombs, H. Shield, G.R. Vanderslice, J.R.C. Wrenshall
Second basses: C.B. Cross, T.H. Haden, E.H. McClintic, William E. Stringfellow
Community content is available under
CC-BY-SA
unless otherwise noted.