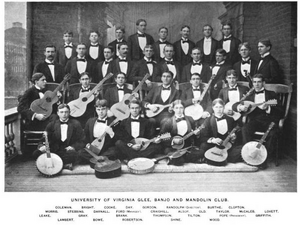 The 1894-1895 season of the Virginia Glee Club was conducted by Harrison Randolph. Officers included M. W. Pope, president; Herbert Old, vice-president; H. C. Ford, general manager; and D. L. Groner, business manager. Notable members included E. A. Craighill.[1]
The season included a tour that took the Glee Club through stops in Charlottesville, Staunton, Roanoke, Lynchburg, Lexington, KY, Frankfort, KY, Cincinnati, OH, Memphis, TN, St. Louis, MO, Norfolk, and Richmond, between December 17, 1894 and February 25, 1895.
Of the tour, the University of Virginia Magazine remarked:
The Glee Club, too, was a great success in every way except financially. Our musicians were well received and most hospitably entertained nearly everywhere they went, and they did our University and their trainer much credit. They may wear their parsley wreath with as good a grace as the athlete his laurels.[2]
Roster
[
]
This roster is as listed in Corks and Curls Volume 8, and includes only those members listed in the Glee Club, not the Banjo or Mandolin clubs.
First Tenor: W.R. Bright, E.H. Coleman, W.E. Darnell, F.L. McCaleb, O.C. Morris
Second Tenor: W.L. Cooke, E. A. Craighill, W.D. Gordon, D.H. Leake
First Bass: M.A. Burthe, M.B. Clopton, J. Stebbins, Jr., C.H. Thompson, B.C. Day
Second Bass: J.T. Alsop, R.S. Brank, H. C. Ford, Herbert Old
References
[
]