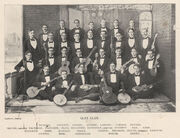 The 1895-1896 season of the Virginia Glee Club was directed by Frederick G. Rathbun.[1] Officers included McLane Tilton, Jr., president; W. Douglas Gordon, vice-president; John D. Potts, business manager; D. L. Groner, general manager; and James H. Paxton, assistant manager.[2] It was the first season in several years not directed by Harrison Randolph. In November 1895 the University of Virginia Magazine noted of the Club:
The recent lack of interest on the part of the societies of Alumni in behalf of the Glee Club was, in a measure, just and excusable. Deeper than love for alma mater in every heart is love for self-—though there be those who would not confess it-—and the average play-goer feels that he is treated too contemptuously when the performers stroll around through the audience, appear carelessly indifferent, and, in every way, make it appear that it is a great condescension on their part to appear before this audience of inferior beings. The beautiful young ladies in the boxes may forgive the disregard of propriety and the airs of superiority on the part of the stalwart youths-—because it's romantic you know—-but not the papas and the bachelor uncles, and they are the ones who have the money. Until the Glee Club men can learn to regard their performances as a business transaction and endeavor to perform their part of it in a businesslike way, with the good taste of high class stage rules, we venture to say that the same lack of encouragement will be found, as was the case this year, and the financial result will be the same as it has been for many years.[3]
This roster is as listed in the 1896 Corks and Curls and does not include members who were only instrumentalists.
William H. Beadles, R.E. Lockett, J.P. Powers, Walter Meade Antrim, Cleveland C. Lansing, W. Douglas Gordon, M. André Burthe, James H. Paxton, J.G. Davidson, George L. Fletcher, W.W. Glass, W. Hullihen, Horace Barton Kane, Rockwell Smith Brank, McLane Tilton, Jr., F.A. Goodridge.
Community content is available under
CC-BY-SA
unless otherwise noted.