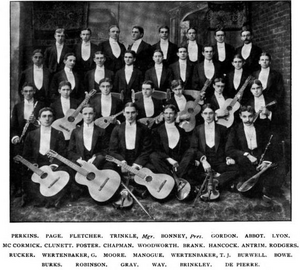 The 1897-1898 season of the Virginia Glee Club, operating as the University of Virginia Glee and Mandolin Clubs, was conducted by George Latham Fletcher, a student. The Glee Club numbered 21 singers. Officers included John Lawrence Vick Bonney, president; Elbert Lee Trinkle, manager; and Douglass McCormick, assistant manager.[1]
During the season, the Glee Club planned a tour that would take them to Alexandria, Virginia, as well as out of state destinations.[2]
First Tenors: George Latham Fletcher, John Lawrence Vick Bonney, Walter Meade Antrim, William Allen Perkins, Norborne Robinson, Jr.
Second Tenors: Douglass McCormick, John Randolph Page, Jr., W. Douglas Gordon, Charles Archibald Clunet, John Henry Chapman
First Bassos: Francis Harris Abbot, Edward Callahill Burks, James Adair Lyon, Jr., William James Way, John Whiton Woodworth
Second Bassos: Rockwell Smith Brank, Edmund Bradford Burwell, Charles Hancock, Thomas Gardner Foster, Edw. Reinhold Rogers, Ernest Alphonso Gray
References
Edit
Community content is available under
CC-BY-SA
unless otherwise noted.