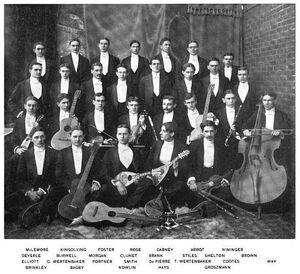 The 1898-1899 season of the Virginia Glee Club was directed by a student, Francis Harris Abbot. The officers were Edmund Bradford Burwell, president; Briggs McLemore, manager; and Charles Archibald Clunet, assistant manager.[1]
During this season the Glee and Mandolin Clubs performed together.
The roster below is all the members who were listed in the 1899 Corks and Curls, and may not include all members who participated in the season.
First tenors: Wythe Leigh Kinsolving, Herbert Rollo Morgan, Marshall Lee Nininger, James Harry Deyerle
Second tenors: John William Brown, Charles Archibald Clunet, Joseph Clay Stiles, Harry Howard Shelton
First basses: Francis Harris Abbot, Thomas Graham Dabney, William Walter Rose
Second basses: Rockwell Smith Brank, Edmund Bradford Burwell, Edgar Howard Farrar, Thomas Gardner Foster
A fiction story in the November 1898 issue of the University of Virginia Magazine gives an idea of the general reception of the Glee Club on Grounds:
...the Glee Club's speciality was college songs, and so they tried a song that they had heard sung on the "bleachers" when the "rooters" wished to encourage the team. Five of them knew most of the words; three of them knew the tune; and all of them were able to come in on the chorus; so between them, with Langdon leading manfully on the piano and filling up the breaks with beautiful dashes of chords and scales, "The Good Old Song of Wah-Who-Wah" was sung with much feeling and much original interpretation. ... This song was followed by others, not always in tune, and not always in time, but it would have taken a harder hearted musical critic than Miss Withers to have found fault with their voices, when they all made themselves so charming in every way. [2]
Community content is available under
CC-BY-SA
unless otherwise noted.