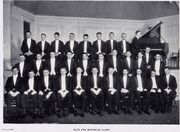 The 1917-1918 season of the Virginia Glee Club carried on in the face of the war with reduced dramatic performances; the season continued the joint performance tradition with the Mandolin Club.[1] A committee formed of W.F. Cox, George W. Swearingen, H. M. Hite, Arthur Kyle Davis, Jr., and W. R. Mallan had to make the decision to carry on with the season in the spring of 1917.[2]Performances included an appearance in Staunton at the New Theatre there. The director was Kirk Payne, apparently unaffiliated with the University.[2] Officers included William S. Thomas, president; Archibald Robinson Randolph, vice-president; Victor Metcalf, secretary; Richard Eppes Shands, manager; James Archibald Leach, manager-elect (in service); Bernard Peyton Chamberlain, property man; and White Howard, assistant director.[3]
First tenors: E.T. Boyd, E.C. Gill, W.B. Hubbard, Victor Metcalf, W.C. Wilkes, John Wesley Wright
Second tenors: C.S. Betts, C.C. Carroll, L.C. Martin, W.A. McGregor, Allison Everhart Palmer, B.H. Tichenor
First basses: H.E. Persinger, C.C. Plummer, A.R. Randolph, C.W. Ryan, William S. Thomas, S.L. Devier
Second basses: Laurence Scott Barringer, Robert I. Boswell, T.F. Carroll, P.T. Rowland, H.C. Thompson, C.S. Wilson
Community content is available under
CC-BY-SA
unless otherwise noted.