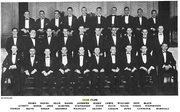 The 1921-1922 season of the Virginia Glee Club was conducted (at least in part) by Francis Harris Abbot. Officers included Frederick R. Westcott, president; Fred B. Gentry, vice-president; Fred B. Greear, manager; C. Venable Minor, stage manager; and Edgar H. Rowe and Willis Todd Carey, assistant managers.[1] Bernard Peyton Chamberlain initially served as manager but resigned.[2]
The group toured the show "I.O.U." in early January of 1922, with stops in Richmond, Petersburg, Newport News, Lynchburg, Roanoke, Covington, Charlestown and Hunting, West Virginia, the White Sulphur Springs, the Hot Sulphur Springs, and Staunton, Virginia.[3]
This roster was as listed in the 1922 Corks and Curls and may not include all participants in the season.
Thomas Leigh Williams, Wright Yount, Harry Glenn Kaminer, Charles H. Lewis, Louis Hager, J.R.V. Daniel, Richard Keith, John A. Morrow, Richard Peard, Fred N. Ogden, Samuel Cheek, John Dismukes Green, McAlister Marshall, Henry Jefferson Lawrence, Nolan Hussey, Merrill M. Pye, Milton Goldstein, George C. Saunders, Segar P. Ellis, William C. Stephenson, Walter G. Stephenson, John Maxwell Davis, Ronald Ames, John Howard Beebe, Robert F. Stone, David Louden Black, Charles Greene Andrews, Robert Gorham, Edmund R. Rutledge, Harold Matthews Shuff, John W. Avirett, W. Hardy Hendren, Randolph Conroy, Charles O. Conrad, Horace Fisher
Community content is available under
CC-BY-SA
unless otherwise noted.