We're Getting Mutants in the MCU - The Loop
Play Sound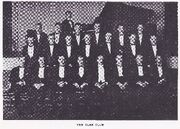 The 1922-1923 season of the Virginia Glee Club was under the direction of Arthur Fickenscher. Officers included Harry Glenn Kaminer, president; Fred N. Ogden, vice-president; John Dismukes Green, manager; and Robert Lee Hinds, II, publicity.
In February 1923, Kaminer announced plans to perform in Washington, Baltimore, Sweet Briar, Lynchburg, Richmond, Newport News, and the resorts at White Sulphur Springs, West Virginia (the Greenbrier resort) and the Homestead at Hot Springs, Virginia. The spring concert was the first to be performed in Old Cabell Hall for several years, returning after several performances in the Jefferson Theatre. Rehearsals were held in Madison Hall, and the plan was to offer a program "modelled along the same style and lines as the Amherst College Musical Clubs" that mixed "music, songs, dancing, and vaudeville skits."[1]
The Glee Club mounted a second tour in May. The Virginia Journal of Education wrote:
The Glee Club recently made its second and final trip of the season which included concerts in Richmond May 3, in Washington May 4 and in Baltimore May 5. The club made its debut in Cabell Hall during Easter week and has already sung in Lynchburg and at Sweet Briar College. Arthur Fickenscher, professor of music in the McIntire School of Fine Arts, is director of the club this year and he has trained a chorus of thirty male voices into a most harmonious singing organization. When the club was taken over by Mr Fickenscher an important step forward was made. In former seasons it has been trained by first a student and then a faculty member, but never the same man in two successive seasons. As a result the shows turned out have been sometimes good, sometimes trivial, but never remarkable. Just as Mr Fickenscher has raised the Glee Club above the average of college singing organizations and has replaced the old musical comedy type with a concert of real merit, he has been a great force for the development of the musical life of the entire University community.[2]
The Glee Club was present at Founders Day at the celebration of the incorporation of the Thomas Jefferson Memorial Foundation. The ceremonies, planned to occur on the lawn at Monticello, were moved to the Old Cabell Hall auditorium due to rain:
The group included Maud Littleton, Amelia Mayhoff, and Jefferson M. Levy, who arrived in Charlottesville on April 12and chose to spend the night at the Hotel Gleason… Stuart Gibboney, the main speaker, also served as master of ceremonies. The other speakers included Virginia's lieutenant governor Junius E. West (Governor Trinkle was traveling on state business), Mrs. Andrews, Mrs. Hotchkiss, and Virginia state senator Henry T. Wickham. During the program a group of dancers in period costume performed a minuet and the University Glee Club performed.[3]
Concerts
[
]
Tours
[
]
Roster
[
]
This roster is as of the 1923 Corks and Curls and may not include all members who participated in the season.
Edgar H. Rowe, Randolph Conroy, Harry Glenn Kaminer, Robert Lee Hinds, Ezekiel Samuel Candler, Charles O. Conrad, Edmund R. Rutledge, David Louden Black, Walter G. Stephenson, George C. Saunders, Henry Jefferson Lawrence, Samuel Cheek, Lyttleton Waddell, Lucien Dent, A.E. Waller, A.K. Eagle, E.F. Fredericks, Walter Saunders, Martin Lewis, James V. Daniel, John Dismukes Green, Lewis Hager, Fred N. Ogden, Fulton Lewis, Jr., C.B.M. O'Kelley, R.T. Marsh, Felix Williams, James W. Jervey, Samuel Jackson, Harris Davenport, Daniel E. Huger, Launcelot Dent, H.W.R. Biers, C.H. Ballard, Charles O'Farrell, H.M. Lloyd, B.F. Hart
Additional members listed in subsequent Corks and Curls as participating in the season include:
References
[
]