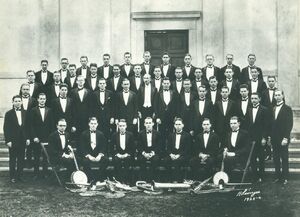 The 1923-1924 season of the Virginia Glee Club was directed by Arthur Fickenscher. Officers included Randolph Conroy, president, Lyttleton Waddell, vice-president, and E.H. Rowe, Jr., manager.[1] The season included performances in Roanoke, the Greenbrier resort at White Sulphur Springs, West Virginia, Baltimore, and Washington DC;[2] the DC performance included a radio appearance on WRC.[1]
By this time, the Glee Club had begun to build a regional reputation. In an article dated February 21, 1924, an Alabama newspaper held up the Vanderbilt College Glee Club to the Virginia Glee, calling the latter "the best club of the sort in the South today."[3] The membership was divided into general membership, consisting of all those who auditioned and then made a final cut based in part on attendance, and touring membership, consisting of selected singers.[4]
The Glee Club was participating in performances of Handel's Messiah in this season. A brief note in the November 23, 1923 College Topics indicates that the practice scheduled for the following Sunday was cancelled "on account of a rehearsal of the Messiah."[5]
Concerts
[
]
Roster
[
]
The following singers were listed as participating in the February appearance in Washington, DC. This list appears to be a subset of the members for the 1923-1924 season.
First tenors
[
]
Second tenors
[
]
First basses
[
]
Second basses
[
]
Gallery
[
]
References
[
]