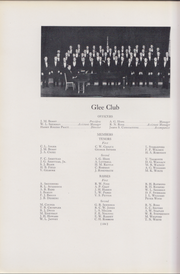 The 1933-1934 season of the Virginia Glee Club was Harry Rogers Pratt's first season as the director of the group. Activities included normal concerts as well as a performance at Hot Springs, Virginia.[1] The officers included J.M. Berry, president; Guy Hope, manager; and W.L. Sherman and Rial Rose, assistant managers; James S. Constantine was the accompanist.
During the season, the Club sponsored a dance with music by the big band ensemble Charlie Gasque and his Royal Virginians, led by former Glee Club president Charles W. Gasque.[2] Either at the beginning of this season or the end of the 1932-1933 season, the Tin Can Quartet of the Glee Club recorded several barbershop songs on a radio transcription disc for radio broadcast.[3]
Concerts
[
]
Roster
[
]
This roster was current as of the Concert at Sweet Briar (1934) and may not reflect all members of the Virginia Glee Club during this season.
Tenor 1: Charles L. Anger, J.M. Berry, J.A. Cocke, Charles W. Gasque, George Snyder, L. Stableford, F.F. Wilshin, H.A. Robinson
Tenor 2: F.C. Armistead, J.G. Armistead Jr., S.J. Blair, H.B. Field, V. Gilmore, A.G. Hope, A. Luttrell, H.M. Rattle, C. Rohman, J. Rosenbaum, V. Tramonte, D.G. Wallace, M.R. Watson, A.G. Williams, M.K. Woltz
First Bass: A. Arensberg, Robert Lee Auldridge, A.B. Babb, I. Berlin, F.J. Briggs, J.B. Desberg, R.W. Fine, A.P. Gray, J.H. Harris, L.W. Parks, V.S. Petter, B.H. Raymond, R.H. Reimers, W.L. Sherman, D.F. Stoddard, J.L. Williams, Peter Wood
Second Bass: M. Couper, T.B. Crumpler, B.J. Diggs, Marx Eiserman, J.H. Howard, W.L. Janney, G.B. Jennings, R.C.W. Jones, L.S. Miller, E.W. Ramsey, C.H. Robbins, R.N. Rose, E.C. Silvers, A.W. Staples, W.R. Stephenson, McDonald Wellford, T.N. White
Gallery
[
]
External links
[
]
This article has more context at Jarrett House North, the blog of the historian of the Virginia Glee Club Alumni and Friends Association.
References
[
]