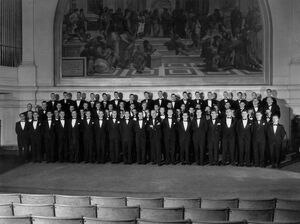 The 1936-1937 season of the Virginia Glee Club was directed by Harry Rogers Pratt. The officers were McDonald Wellford, president, Frantz Hershey, business manager, and H. L. Bailey, librarian and accompanist.[1][2]
This is the roster as of the Easter Week Concert (1937), augmented by the membership list in Corks and Curls, and may not include all who sang in the Glee Club during the 1936-37 season.
First Tenors: B.G. Eberwein, A.R. Ehrbar, Charles W. Gasque, R.E. Hawkins, G.K. Klose, A. Peyton, W. Reynolds, L.L. Sullivan, S. Wiedmann
Second Tenors: F.C. Armistead, W.L. Baldwin, R.O. Deininger, H.B. Field, E.T. Harrison, Frantz Hershey, T. O'M. Hindman, W. Jensen, A. Luttrell, E.L. Malone, A.H. Meyer, F.P. Nichols, M.M. Ramsey, K.A. Sparrow, P.K.Sheffield, A.C. Stever
First Basses: Gerald A. Berlin, Thomas P. Bryan, H.C. Chamberlain, W.M. Cushman, M. Deekins, B. Diener, Thomas S. George, A.P. Gray, P.H. Hoge, W.W. Jones, L.B. Lee, Ernest Mead, H.L. Meisel, R.S. Mickey, H.C. Mirmelstein, W.T. Purdum, D.R. Webb, C. Williams, H.B. Williams, C.J. Wright
Second Basses: S.I. Firtel, A.E. Harvey, C.F. Hawkey, R.P. Hilder, D.A. Jenkins, B. Jones, W. Kirk, H. Licklider, R.F. Loomis, M.B. Perry, R.G. Reed, C.H. Robbins, C.M. Wade, McD. Wellford
Other members who are listed as participating during this season include Kenneth Seaman Giniger.
Community content is available under
CC-BY-SA
unless otherwise noted.