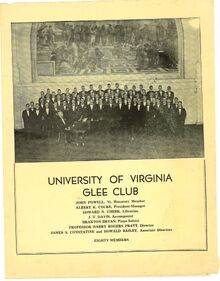 The 1940-1941 season of the Virginia Glee Club was directed by Harry Rogers Pratt. Officers included Albert Kirven Cocke, president and manager,[1]and Edward N. Cheek, librarian. J. V. Davis was the accompanist and James S. Constantine and Howard Bailey were the associate directors.
The following concerts were advertised in the season program:
This is the roster as of the Music Festival (1941) and the 1941 Corks and Curls, and may not include everyone who participated in the season.
First tenors: David Brewster, Charles Butterworth, Paul Bourjaily, Frank R. Dunham, Sonny Hall, Philip Hardy, Paul Lyday, Ed Lyman, George Marko, Vernon Mattox, Joe Marko, Robert L. McKim, Samuel Munson, James Pfahl, Robert B. Posnick, Victor Salvatore, Timothy Smith, George Shackelford, Marshall J. Snapp, Lawrence Snoddy, Clement B. Sharpe, Vincent Tramonte, Bernard Wycoff
Second tenors: John Ackerson, Bill Banks, James Borden, C. Bradford, W. Brunner, Gilbert Campbell, Ralph Chandler, Harvey Craig, G. Dawes, Mahlon Elliott, Kelsey Goss, Robert Gravatte, John Greenleaf, John Mallard, Gilbert Martin, Robert Morse, John McCown, Grove McCown, Robert McCormack, Bruce Nelson, John Peters, Randolph P. Pillow, Charles Rawolle, Frank Salisbury, Albert Scafuro, James R. Stanton, Jim Thorne, Robert Walter, Sherman Whipple, Mason Williams, W. Willis, A. di Zenega
First basses: Ed Berry, Carl Beyer, William Black, Gerald Black, Charles Boatwright, Bruce Bode, George Boone, Edward N. Cheek, Albert Cocke, Peyton Cochran, Martin Cowen, Herbert Dann, George Denison, John Fitzgerald, John Gordon, Frederick Hicks, Lawrence Heinrich, Don Hoenstein, Frank Keppelmann, Charles Lloyd, Philip P. Marvin, Warren Maas, John McConnell, James Nottingham, Hugh E. Russell, Hal Sill, William Stull, Stuart Talbot, Thomas M. Thornhill, Bob Tyler, Tony Walker, E. Ware, R. Ware, Robert Turner, Wesley Ward, R. Ziegler
Second basses: Albert Amsterdam, Macon Arthur, Johnny Carruth, Irby Cauthen, Erskine Conrad, Fred Cruser, J. Clark, Frank Simms Dudley, Jr., Lloyd Edwards, Robert Elmer, David Gleason, Thomas Griffis, Jim Harper, Felix Jenkins, John Kirsten Kelly, Edward G. Lorenz, John McCloskey, Fielding Mercer, Tom O'Reilly, John M. Perry, Moss Plunkett, John Richards, William Richardson, Jason Rome, Harrison Robertson, Charles O'Connor, Garced Sketchley, Lester Smith, Put Stowe, DeForest Trimingham, Joseph Tucker, Richard D. Vermillion, Samuel Williams
Community content is available under
CC-BY-SA
unless otherwise noted.