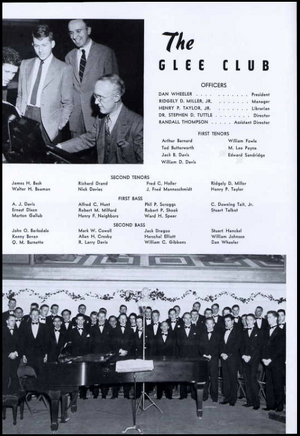 The 1943-1944 season of the Virginia Glee Club was led by Stephen Tuttle, with Randall Thompson as accompanist. Officers were Daniel G. Wheeler, president; Ridgely D. Miller, Jr., manager; and Henry P. Taylor, librarian.
This is the roster of men who participated in the Fall Concert (1943), Christmas Concert (1943), and Concert at Sweet Briar (1944), or were listed in the 1944 Corks and Curls, and may not include all members of the Club for this season.
William R. Allen, Arthur E. Barnard, Charles E. Butterworth, Jr., J.B. Davis, W.D. Davis, William Embry, W.F. Fowle, Jr., Clyde Gould, L.M. Payne, J.E. Sandridge, Ned H. Wiebenga
James H. Bash, Walter H. Beaman, Jr., E.D. Brand, N. E. Davies, Charles E. Hamm, Fred C. Holler, A.C. Hunt, J. Fred Manneschmidt, R.D. Miller, Charles M. Moon, Jr., Joseph H. Smith, H. P. Taylor, Jr., Ephraim E. Zeitz
William H. Brown, A.J. Davis, Ernest M. Dixon, Richard B. Eisenhour, Morton Gallub, James E. McTamany, John W. McTigue, R.M. Milford, H.F. Neighbors, Jr., P.P. Scroggs, Jr., Robert Paschal Shook, Ward H. Speer, William R. Spence, Columbus Downing Tait, Stuart Talbot, C. Gooch Whitworth
John O. Barksdale, K. F. Bevan, Lewis Bowman, Q.M. Burnett, H. Louis Chodosh, Mark W. Cowell, A.H. Crosby, R.L. Davis, J.B. Dragoo, Herschel Elliott, William C. Gibbons, Stuart B. Hanckel, John D. Kreis, W. Johnson, Owen Meredith, David J. Nagle, Samuel P. Oast, Ralph E. O'Dette, James A. O'Lone, Daniel G. Wheeler
Community content is available under
CC-BY-SA
unless otherwise noted.