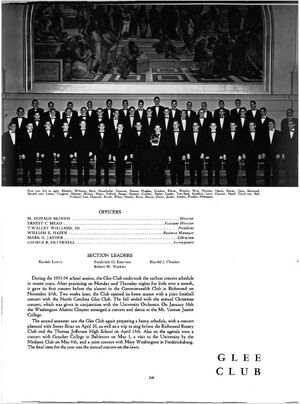 The 1953-1954 season of the Virginia Glee Club was conducted by Donald MacInnis. Officers included T. Walley Williams, III, president; William Hazen, manager; and Mark Jander, librarian. Accompanists included George Silvernell and Ernest Mead.
This roster is as of the Spring Concert (1954) and may not include all participants in the season.
William Alesker, Fritz Berry, Robert Bersch, William Bruce, Thomas Cantieri, Harold Cloutier, Claude Crockett, Jr., Julian Dancy, Roger Dunne, Fred Emerson, George Fleshman, William Foulkes, Ben Franklin, Phillip Hancock, Mark Jander, Daniel Kelder, Samir Khalidy, Laird Leeder, Alvah Low, Kermit Lowry, Jr., Malcolm MacLeod, Sam Marney, John Mayo, William McSween, James Moody, Robert W. Nuckles, Alvin L. Pritchard, Jr., Peter Runkle, John Sutton, Burns Tichenor, James D. Vaughan, Jr., Robert von Beck, Beverly West, David White, T. Walley Williams, III
The following additional members were listed in the 1954 Corks and Curls: Leonard K. Drumheller, Joseph Hughes, Elliott, Wattles, William Hazen, Dent, George Russell Silvernell, William Myers Wilson, Sam Rountree Telford, Berger, George Edward Stevens, Gordon, James W. Feeley, Laird Leeder, Thomas Middleton Lewis, Charles Bell, Jr., John Holmgren
Community content is available under
CC-BY-SA
unless otherwise noted.