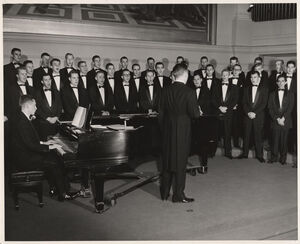 The 1955-1956 season of the Virginia Glee Club was conducted by Donald MacInnis. Officers included Alvin L. Pritchard, Jr., president; Lawrence L. McEvoy, Jr., manager; Stanley C. Baker and Robert H. Turner, assistant managers; Robert W. Nuckles, librarian, and Palmer S. Rutherford, Jr., assistant librarian. The accompanist was Barry Rogers and section leaders included James W. Feeley, D.M. Moore, Fred L. Somers, and James D. Vaughan, Jr..
Sometime prior to or during the season, the Club had a promotional 7" acetate made of recordings of repertoire from the prior two years, presumably with the intention of sending to radio stations as a promotional single. In April 1956 the Glee Club gave a radio performance on area radio station WTVR.[1]
Concerts
[
]
Roster
[
]
This roster is complete as of the Concert at Mary Washington (1956), Concert at Sweet Briar (1956), and the 1956 Corks and Curls, and may not include all participants in the season.
Tenors: Frederic Berry, Robert S. Bersch, John Brandt, Warren Brubaker, James K. Collier, Jr., Charles Cowley, Jimmie K. Crowder, Leonard K. Drumheller, Frederick Emerson, Melvin E. Fuller, John Gibson, Roy Glassberg, Cyrus Guynn, William Horton, James Hutcheson, David Keeler, Samir Khalidy, Victor Lawson, Kermit Lowry, Jr., Alma Low, Sam Marney, John Mayo, Lawrence McEvoy, William McGonegal, Frank McLaughlin, George Miller, Dan Moore, Alvin L. Pritchard, Jr., Thomas Ratcliffe, Charles Robertson, Barry Rogers, Pete Runkel, Palmer Rutherford, Edwin Sanders, Glenn Sedam, John Seltzer, Robert Steffey, George E. Stevens, Grant Howard Tankersley, James D. Vaughan, Jr., Robert Velle, Malcolm Wyatt
Basses: Arnold Abrams, George Armstrong, Robert Bair, Stanley C. Baker, John Barnes, Paul Berryman, Francis Bondurant, Stevenson Bowes, Morton Boyd, Jr., Thomas Cantieri, Rene Coudert, Philip Cox, Claude Crockett, Jr., David Damewood, Jimmie Dunton, Benjamin Duval, Louis Dvorsky, James W. Feeley, Leslie Friedman, Ernest Greene, Charles R. Greer, Phillip Groves, Wallace Harding, William T. Hawkins, David G. Hubby, Darrell E. Jervey, Ken Jones, Gordon E. Johns, William Knight, Laird Leeder, David Marsee, Charles Nichols, Robert Nuckles, Calvin W. Parker, Ralph Proctor, Richard W. Pschirrer, John P. Sawyers, Paul Scarborough, Donald Smith, Loran Robert Smith, Fred L. Somers, John Stonhouse, Benjamin Sublett, Ryo Tanaka, Wayne Taylor, David C. Tribby, Malcolm E. Turnbull, Robert H. Turner, Robert Von Beck, John A. Washington, Mack Wood, Robert L. Wright
Gallery
[
]
References
[
]