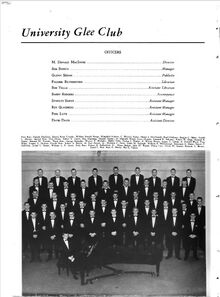 The 1956-1957 season of the Virginia Glee Club was the final season conducted by Donald MacInnis and also the first in which David Davis worked with the group (in the capacity of assistant conductor). Officers included Dan Moore, president; Robert Bersch, business manager; Roy Glassberg, Stanley C. Baker, and Glenn Sedam, assistant business managers; and Palmer Rutherford, librarian. The accompanist was Barry Rogers.
A recording of works from the season is available at the University of Virginia Library.
This roster is as of the Fall Concert (1956) and may not include all members who participated in the season.
Tenors: Robert Bersch, John Brandt, Wilson Brown, Warren Brubaker, William Bunge, Robert Caven, Charles Cowley, Jimmie Crowder, Earl Fauver, Roy Glassberg, William Horton, David Keeler, Victor Lawson, Dan Moore, William Poole, Wingfield Roberts, Barry Rogers, Palmer Rutherford, Edwin Sanders, Glenn Sedam, George Sempeles, Robert Velle, Phillip Walker, Malcolm Wyatt
Basses: Arnold Abrams, George Armstrong, Stanley C. Baker, Lawrence Bird, Kenneth Bonner, Hendrik Booraem, V, Kenneth Bonner, Stevenson Bowes, William Carter, Robert Deas, Charles DuPuy, Louis Dvorsky, Richard Fowler, John Frothingham, Steven Fullerton, Benjamin Fulton, Cooper Graham, Ernest Greene, Russell Harley, Buell Hollister, Eugene Hughes, Merwyn Johnson, Laird Leeder, Philip Lutz, Jerry MacDonald, William McGonegal, Edward Miller, Charles Nichols, Edward Nichols, Lydon Parent, Calvin Parker, Leonard Pullen, Howard Schuster, John Smuck, Kenny Sothern, Andrew Stewart, Joseph Talbot, Charles Tunstall, Garvin Walter, Donald Ward, Eliot Wells, Al York
The following additional members appeared in the 1957 Corks and Curls: Ralph M. Rudolph, Kenneth L. Bonner
Community content is available under
CC-BY-SA
unless otherwise noted.