Line 8:
Line 8:
 

*[[Spring Concert (1965)]]

 

*[[Spring Concert (1965)]]

 

*[[Concert at University of Richmond (1965)]]

 

*[[Concert at University of Richmond (1965)]]

 
+
 
+

==Newsletters==

 
+

*[[Glee Club Member Newsletter (1965)]]

 
+
 

==Roster==

 

==Roster==

 
 
---
Latest revision as of 18:14, 15 June 2021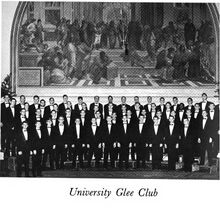 The 1964-1965 season of the Virginia Glee Club was Donald Loach's first as director. Douglas Miller was president; Gary Cook was Business Manager; Peter Zwanzig publicity manager; and Edward Tappe was librarian. Jan G. Owen was the accompanist.
Donald Loach has recalled in an oral history that when they went on tour, they were appalled to realize that they were refused service at truck stops along Rt 29 because they had an African-American member. According to Loach, the issue was brought to the attention of Edgar F. Shannon, and the truck stops were integrated.
Concerts[]
Newsletters[]
Roster[]
This roster includes all members in the Christmas Concert (1964) and Spring Concert (1965). It may not include all who participated in the season.
First tenors: Geoffrey R. Baer, Jerry Coffey, Dwight Duncan, Brian Fatzinger, Thomas Faulkner, Wesley Garvin, Tom Lefler, Bruce MacDougal, William Rogers, Bruce Smith, Robert Zyromski
Second tenors: James Beckley, Philip Carpenter, Robert Field, James Harney, Roger Israelson, Andy Pitas, Jan G. Owen, Jonathon Reed, Steve Scarbrough, Thomas Smith, Steve Sorkin, Agnew Swineford, Edward Tappe
Baritones: Bill Anderson, Bradley Brooks, Gary Cook, David Davis, Douglas Dixon, Carroll Freeman, Thomas Hall, Roger Hill, Robert Hobbs, Charles Keene, Joseph LeBlanc, Wallace Mook, Eugene Pearson, Mitchell Reese, Hunt Riegel, Martin Rothenberg, John Rust, James Stone, Edwin S. Williams, Winston Wright, James Wintermeyer
Basses: Henry Baskerville, James Bell, Patton Boyle, Stephen Brod, Christopher Douglas, Wilmont Drake, Arthur Fox, William Guffey, John Hotchner, Richard Hughes, John Lert, Malcolm MacGregor, Peter March, Douglas Miller, Delmas Moore, Kit Schooley, Peter Zwanzig
Gallery[]