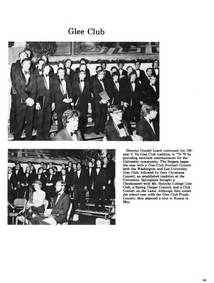 The 1978-1979 season of the Virginia Glee Club was conducted by Donald Loach. Officers included Eric Sall, president; George Gerachis, vice president; Matthew Koch, secretary and Foreign Tour Manager; Thomas Potter, business manager; John Yenchko, domestic tour manager; John Lamb, stage manager; and Stephen Read, librarian. The accompanist was Barry Germany. The season included performances on tour at Mount Holyoke College and a joint tour of Russia and Sweden with the Mount Holyoke Glee Club.
This roster is complete as of the Football Concert (1978) and Finals Concert (1979) and may not include all members who participated in the season.
Tenor I: James Barden, Ronald Campbell, James Fotter, Matthew Freeman, Anthony Gal, Dennis Moulton, Christopher Nelson, Charles Kipps Purcell, Peter Simmons, Russell Speidel, John Voelker, Peter Williams
Tenor II: Jonathan Davies, John Fargo, David Freneaux, George Gerachis, Donald Grasberger, Christian Halstead, Joel Hulett, Lawrence M. Lavin, Forrest Rea Marshall, III, David Meiselman, Richard Poole, Eric Sall, Nelson Turner, John Yenchko
Baritone: Benjamin Beach, Jeffrey Browning, Thomas Darbyshire, Barry Germany, Jonathan Hill, Charles Hobson, Paul Houghton, Matthew Koch, Robert Lacy, Christopher Lahr, Skip Lewis, Thomas Potter, David Quittmeyer, Leigh M. Smith, Thomas Sutton, Matthew Warren
Bass: Gerald Archer, Matthew Brown, Glenn Butterworth, Robert Gehlmeyer, Jackson Gibbs, Richard Goldberg, Richard Habel, Peter Hackes, Michael Julius, Mark Kupke, John Lamb, Peter Lawthers, Stephen Read, Steve Russell, Robert Simpson
Community content is available under
CC-BY-SA
unless otherwise noted.