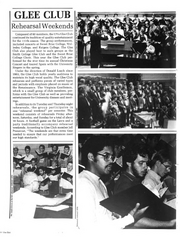 The 1981-1982 season of the Virginia Glee Club was highlighted by the joint Glee Club-University Singers Gira Espanola (tour of Spain). The season was conducted by Donald Loach. Officers included Matthew Freeman, president, Rich Habel, vice president, Jeffrey Prevenost, business manager, Scott Myhre, secretary, Robert Wagner, domestic tour manager, Rafe Madan, international tour manager, Martin Kopser, stage manager, and Ronald Campbell, librarian.
This roster is as listed in the programs for the Kickoff Concert (1981) and the Concert at Wellesley (1981-1982), and may not include all members who participated in the season.
Tenor I: Jorge Amador, Richard Brown, Ronald Campbell, Kevin Dwyer, Matthew Freeman, John Gereski, Thomas Goodrich, Douglas House, David Hyatt, Andrew Kaufman, Christopher Rossbach, Russell Speidel, Donald Toet, Robert Worst
Tenor II: Jonathan Davies, Phillip Dennis, Kurt Elam, Donald Grasberger, Thomas Grexa, Christian Halstead, Stephen Hanna, Joel Hulett, Stephen Jones, Martin Kopser, Forrest R. Marshall, Christopher North, William Simson, Christopher Tickle, Brian White, David Belote, Jeff Willmore
Baritone: David Dokken, Tucker Echols, Elliot Freier, Wayne Jones, Christopher Lahr, Benjamin Lane, Rafe Madan, William Nelson, Jeff Pool, Jeffrey Prevenost, Leigh M. Smith, Thomas Sutton, Robert Wagner, Matthew Warren
Bass: Michael Beatty, Terry Bergey, John Bratsch, Matthew Brown, David Detweiller, Richard Goldberg, Richard Habel, Steven James, Fielding Johnson, Michael Julius, Robert Keenan, Scott Myhre, Tim Riggs, Robert Robertson, David Snouffer, Steve Sokoll, Jeffrey Stark, Daniel Vincent, John Wadlington
Community content is available under
CC-BY-SA
unless otherwise noted.