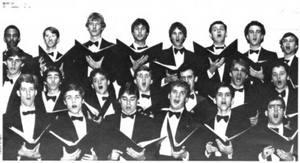 The 1983-1984 season of the Virginia Glee Club was directed by Donald Loach. Officers included Tucker Echols, president; Phillip Dennis, vice president; Daniel A. Vincent, Jr., tour manager; John Wadlington, secretary; John Gereski, stage manager; Richard Glass, librarian; Marshall Ginn, foreign tour manager; David Snouffer, editor of the Bulletin; and John Bratsch, domestic tour manager.
This roster is complete as of the Christmas Concert (1983), and may not include all participants in the season.
Tenor I: Douglas DeGenaro, Bradford Fox, Marshall Ginn, John Gereski, David Hyatt, Andrew Kaufman, Thomas Kelly, Thomas Leckey, J.P. Nicolaides, John Plemmons, Christopher Rossbach, Pierce Walmsley, Charles Wolfe
Tenor II: David Belote, Mark Boodée, Joseph Costa, Phillip Dennis, Michael Green, Christian Halstead, Stephen Harrison, Martin Kopser, Forrest Rea Marshall,III, Keith Perry, Thad Polk, Timothy Polk, Christopher Tickle, Theodore Turnau, Nicholas Vlissides, Charles P. Wise, Jr.
Baritone: Lee Coghlan, Vertram Darrell Dabney, Tucker Echols, William Farquhar, James Gibson, Richard Glass, Joel Hulett, Wayne Jones, Kevin Kelley, William Nelson, Thomas Rowe, Morton Saunders, Thomas Sheffler, Edward Smith
Bass: Wayne Boley, John Bratsch, David Detweiller, Stephen Farlow, Richard Hammerly, Fielding Johnson, Daniel Kothmann, Michael Lane, Thomas Larus, Scott Messner, Gilbert Pearman, Robert Robertson, David Snouffer, James Starr, Daniel Vincent, John Wadlington
Community content is available under
CC-BY-SA
unless otherwise noted.