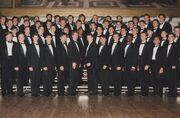 The
1991-1992 season of the Virginia Glee Club
was
John Liepold
's first season as director. The season included the beginning of the Glee Club's commissioned music series and the
Tour of the South
. Officers included
Michael McCullough
, president;
Paul Stancil
, vice president;
Jim Heaney
, business manager; and
Poulson Reed
, secretary.
This roster is as listed in the liner notes for the 51st Annual Christmas Concert recording and may not include all members who sang during the season.
Tenor I: Ruben Basantes, Mike Braun, Dave Eisenstadt, David Fouché, Jon Finn, Erik Hirsch, D.R. Tyler Magill, Nathan Moore, Scott Norris, John Park, Justin Rosolino, Paul Stancil, John Vick, Donald C. Webb, John Wright
Tenor II: Mike Armstrong, Kevin Dixon, Dean Goodwin, Doran Gresham, Andrew Heffernan, Tim Jarrett, Dave Keller, John Lin, Michael McCullough, Jason Malec, Brian Menard, Derek Ramsey, Poulson Reed, Brogan Sullivan, Aven Tsai, Andrew Wilder, Paul Wolfe
Baritone: Matt Benko, Matt Breaks, Christopher Corr, Chris Doyle, Sean Drumheller, Tom Ellwood, Shawn Felton, Matt Fischer, Mitch Harris, C.J. Higley, Burt Kann, Todd Lawrence, John McLaughlin, Guido Peñaranda, Morgan Whitfield
Bass: Curt Alt, Chris Anderson, Michael Arthur, Scott Barker, Kurt Daniel, Jim Heaney, Bobby Koo, Todd Rich, Jim Wiser, Van Zeiler
Community content is available under
CC-BY-SA
unless otherwise noted.