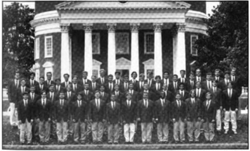 The 1994-1995 season of the Virginia Glee Club was conducted by John Liepold. The officers were Jonathan Finn, president; Parker Hudnut, vice president; Donald Earl "Trey" Childress III, business manager; and Benjamin Levin, secretary. During the season, the group hosted Chanticleer, including future Glee Club conductor Frank Albinder, for a choral workshop and concert.
Home concerts during this season were held at University Baptist Church during the renovation of Old Cabell Hall.
During the season, the Glee Club participated in recording sessions toward a project tentatively called "Marian Echoes." The project was never released, but the masters are held by the University of Virginia Library.
Morning Service at Christ Church
Messiah Sing-in
Virginia ACDA Intercollegiate Choral Festival
This roster is as of the Kickoff Concert (1994), Christmas Concert (1994) and Spring Concert (1995), and may not include all members who participated in the season.
Tenor I: Lars Bjorn, Nick Comerford, Todd Feagans, Shawn Felton, J. Craig Fennell, Jonathan Finn, Vihem Aeschlbie, Adam Gumpelzhaimer, Nathaniel Hudnut, David Irby, Mahna Mahna, Sam Retzer, Jayson Throckmorton, Matt Vanderzalm, Faux Wafna, Kris Walker, John Williamson, Andrew Wright
Tenor II: Dave Almquist, Chris Baltimore, Patrick Blake, Kelly Caylor, Eugene Chung, Marcus Hagegård, Honor Johnson, Farrell Kelly, Will Luckert, Stockton Mayer, Denis McNamara, Sean Murray, Guido Peñaranda, Hugh Scott, Jeff Slutzky, John Stanzione, Matt Svoboda, Cabell Vest
Baritone: Chris Ambrose, Joe Bernier-Rodriguez, Andrew Breen, Brent Brown, Dave Buck, Frank Cardillo, David Cary, Drew Cogswell, Alex Cohn, Chris Goldberg, Peter Habib, Chris Holly, Scott Johnston, J. Todd Lawrence, Tom Nassif, George Shirley, Bryan Strickland, Morgan Whitfield
Bass: Tim Boda, Steve Bognaski, Trey Childress, Ben Foster, Jared Hood, Charles Hornbostel, Parker Hudnut, Ben Levin, Douglas Min, Christopher Newman, Tim O'Brien, Kevin Ritz, Dan Roche, Eric Rothwell, Daniel Twining, Jason Wynn
Community content is available under
CC-BY-SA
unless otherwise noted.