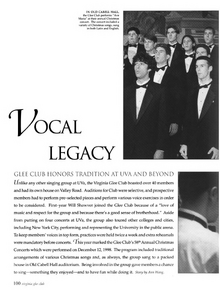 The 1998-1999 season of the Virginia Glee Club was conducted by Bruce Tammen. Officers included Dan Shomaker, president; Kyle McNiff, vice-president; Don Chesworth, publicity manager; Chris DiBiagio-Wood, business manager; and Andy Snyder, secretary.
This roster is as of the Christmas Concert (1998) and the Spring Concert (1999), and may not include all participants in the season.
Tenor I: Drew Adelman, Jason Baker, Chris Dillon, Jonathan Howse, Joel Peter Iverson, Kyle McNiff, Tariq Moustapha, Willis Shawver, Alex Shin, Bert Steindorff, David Witkowski, Carter Wood
Tenor II: Steve Block, Jon Brandt, Warren Ellsworth, J. Craig Fennell, Stephen Liang, Tien Peng, Ron Secrist, Jeff Slutzky, Jim Steichen, Benjamin Thompson, Jayson Throckmorton, Francis West, Derek Woodley
Baritone: Matt Ballenger, Bill Bennett, Adam Bronstein, Nathan K. Brown, Chris DiBiagio-Wood, Mark Foster, Tim Estes, Austin Graham, Jason Hathaway, Farrell Kelly, David Lattimore, Justin F. Rousseau, Andy Snyder, Blaise Warren, Luke Wiseman
Bass: Andrew Burdick, Don Chesworth, Brad Dakake, Jim Haley, Jun Koo, Wren Miller, Rudy Morgan, Neil Nagraj, Matthew Pierson, Dan Roche, Dan Shomaker, Thomas Yang, Matt Zalubowski
Community content is available under
CC-BY-SA
unless otherwise noted.