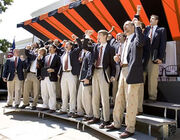 The 2005-2006 season of the Virginia Glee Club was conducted by Frank Albinder. Officers included David Faulkner, president, Jonah Lampkin, vice-president, Raheem Choudry, business manager, Matt Herbek, publicity manager, Erik Loken, secretary, and Darin Showalter, librarian.
During the season, the Glee Club commissioned a setting of Jabberwocky from UVa professor Judith Shatin.
The season also saw the launch of the Virginia Glee Club Alumni and Friends Association on April 13, 2006, in a Founder's Day Rotunda Dinner where Bonnie Ford received the first Gilbert J. Sullivan Distinguished Service Award.
Tenor I: Charles Arthur, Aeryk Carr, Matt Herbek, William Hodges, Karl Lugo, Scott McQuiddy, Mayank Tandon, Chris Tuggey
Tenor II: Jalil Andraos, Raheem Choudry, Jonathan Chung, Kevin Ross Davis, George Glass, Mark Grey-Mendes, Daniel Hine, Shayne Shiflett, Nathan Swayne, Matthew Young, Jonathan Yu
Baritone: Charles Blundon, Kevin Comer, Danny Eckstein, David Faulkner, Evan Fay, Dan Herbst, Tae Uck Kang, Jonah Lampkin, Leo Lee, Tristan van Tine, Han Gyul Yi
Bass: Frank Block III, Michael Jefferson, Hoo Lee, Erik Loken, Jake Mello, Patrick O'Kelly, Alex Patton, Bart Renner, Darin Showalter, Richard Staines, Sam Thienemann, Trevor Wesolowski
Community content is available under
CC-BY-SA
unless otherwise noted.