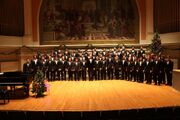 The 2012-2013 season of the Virginia Glee Club was conducted by Frank Albinder. Officers included Aki Ko, president; William Talbot, vice-president; Michael Ziegler, publicity manager; Jacob Friedmann, business manager; and Wilson Pillow, secretary.
Tenor I: T.J. Henderson, Richard Becker, Jacob Friedmann, Chun-Ju (Tass) Lai, Rafi Tiongco, Joe Marcheso-Schmitt, Jason Steckler, Xuemeng Xia
Tenor II: Mike Belote, Eric Grube, Wilson Pillow, Dan Culbertson, Max Craft, Jordan Stillman, Ryan Hoak, Daniel Hine, Michael Carmone, Philip Munck, Yongjin Lee, Charles Hancock (II)
Baritone: Todd Chatlos, Aki Ko, Alex Bryant, Drew D'Amato, Connor Campbell, Matthew Bond, CJ Kling, Michael Heiligenstein, Brian Ammer, Seamus Anderson, Chris Cantone, Matt Doyle, Ryan Duffin, Edwin Kimko, Rob Merrera, Ben Cunningham
Bass: Justin Lee, Jamar Nixon, Michael Chen, Benjamin Gonzalez, Mark McDonnell, Chuck Moran, William Talbot, Pierce Tickle, Michael Ziegler, David Chang, Forrest Brown, Zachary Seid, Matthew Harris, Brent Baumgartner, Aidan Cronin, Steve Sun, Kris Yorke, Trygve Loken, Artemie Jurgenson
Community content is available under
CC-BY-SA
unless otherwise noted.