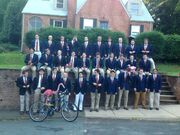 The Glee Club 2013-2014 season was conducted by Frank Albinder. Officers elected in March 2013 included Jordan Stillman, President, Zachary Seid, Vice President, Alex Bryant, Publicity Manager, Yongjin Lee, Business Manager, and Max Craft, Secretary.
The season saw the release of a new recording, In Harmony, Love, and Brotherhood.
Tenor I: Richard Becker, Jacob Friedmann, Chun-ju (Tass) Lai, Rafael Tiongco, Joe Marchese-Schmitt, Xuemeng Xia, Patrick Semesky, Daniel Kim, Nick Lytle, Andrew Morton, Yangfan Mu
Tenor II: Eric Grube, Wilson Pillow, Max Craft, Jordan Stillman, Ryan Hoak, Daniel Hine, Philip Munck, Yongjin Lee, Charles Hancock (II), Seth McChesney, Brian Uosseph, Scott Boulineaux, Ian Coombs, Jacob Higgins, Sina Mazaheri, Arjun Pundarika, Kyle Thornburgh, Chris Welsh, Nick Williams, Duane Macatangay
Baritone: Matthew Bond, CJ Kling, Aki Ko, Alex Bryant, Drew D'Amato, Todd Chatlos, Brian Ammer, Chris Cantone, Matt Doyle, Edwin Kimko, Rob Merrera, Ben Cunningham, Adrian Dan, Tu-an Truong, Nick Baldi, Michael Capps, Kevin Chen, Cameron Goss, Mike Muldoon
Bass: Justin Lee, Chuck Moran, Mark McDonnell, William Talbot, Pierce Tickle, Michael Ziegler, Forrest Brown, Zachary Seid, Aidan Cronin, Steve Sun, Artemie Jurgenson, Ned Martin, Evan Craighead, William DeBord, Jacob Mirpanah, Jay Windsor, Victor Zheng, Matthew Fay
Community content is available under
CC-BY-SA
unless otherwise noted.