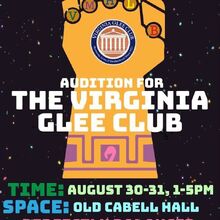 The 2018-2019 season of the Virginia Glee Club was conducted by Frank Albinder. Officers included Colin Sullivan, president; Siddarth Ajith, vice-president; Caleb Selph, business manager; Henry Hollandsworth, publicity manager; and Denny Jeong, secretary.
In addition to the formal concerts, the season also included a performance at fall convocation with members of the Virginia Women's Chorus.
Tenor 1: Siddarth Ajith, Nathan Johnson, Paul Redling, Logan Romberger, Xuemeng "John" Xia, Sung Bae Yun
Tenor 2: Walter Buzzini V, Daniel Hine, Melvin Lopez, David Orvedahl, Callen Toscano, Rice Tyler, James Wilusz
Baritone: Kai Cheng, Nathaniel Coombs, Jon Cottrell, Tyler Curran, Alden Duquette, Joseph Franco, Brian Henriquez, Marvin Hicks, Henry Hollandsworth, Jonathan Park, John Perez, Caleb Selph, Hriday Singh, Colin Sullivan
Bass: Michael Chang, Chris Hall, Denny Jeong, Zach Lingle, Matthew McDonnell, Martin Moro, Jimmy Qing, Tom Shaw, Luke Waddell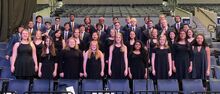 Community content is available under
CC-BY-SA
unless otherwise noted.