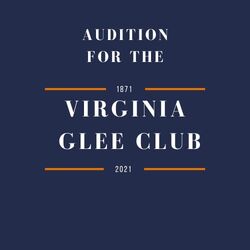 The 2020-2021 season of the Virginia Glee Club is conducted by Frank Albinder. Officers include James Wilusz, President; Nat Coombs, Vice President; Damian Jessup, Business Manager; Keith Yacko, Publicity Manager; and Noah McIntire, Secretary.
The season was significantly affected by the ongoing COVID-19 pandemic, but the Club's officers kept the group going and performing through virtual choir projects that were released on the Virginia Glee Club YouTube channel.
Tenor I: Noah McIntire
Tenor II: Walter Buzzini V, Hunter Carlton, Jake Olsson, David Orvedahl, James Wilusz, Andrew Zhao
Baritone: Alex Boland, Nathaniel Coombs, Jonathan Cottrell, David Ganderson, Marvin Hicks, George Shirkey, Keith Yacko
Bass: Kunal Chauhan, Denny Jeong, Michael Jessup
Community content is available under
CC-BY-SA
unless otherwise noted.