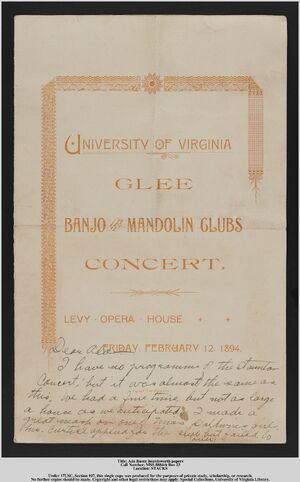 The February 1894 concert of the Virginia Glee Club was a joint concert with the Banjo and Mandolin Clubs. Held in the Levy Opera House in Charlottesville on February 12, 1894, the concert followed the Glee Club's 1894 tour and featured some of the same repertoire, including the first recorded performance of "Here's to old Virginia."[2]
Here's to old Virginia (Glee Club) 
Triumph March (Banjo Club) Lansing 
Love's But a Dream—Waltz (Mandolin) (Arling Shaeffer)
Merry Poverty (Glee) (Kremser) 
Alvarado-Spanish Serenade (Mandolin) (Henlein)
Phantom Band (Quartet and Glee) (Thayer) 
Normandie March (Banjo) (Armstrong) 
British Patrol (Mandolin) (Asch)
Andalusia—Valse Espanole (Mandolin) (Le Thierra)
The Owl and the Pussy Cat (Mr. Buthe and Club) (De Koven) 
But One Vienna (Banjo) (Schrammel)
Community content is available under
CC-BY-SA
unless otherwise noted.