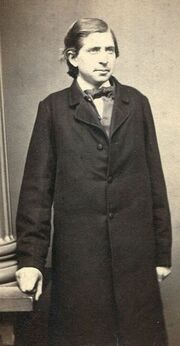 Henry Waldo Greenough (February 14, 1870 in Westfield, Massachusetts – July 28, 1930)[1][2] was a member of the Virginia Glee Club during the Glee Club 1893-1894 season.[3] A graduate of Colorado College at Colorado Springs, Colorado, he studied law at the University of Virginia, graduating in 1897.[4]
After graduation he enlisted in the US Navy during the Spanish-American War. He practiced law in Rhode Island and became the assistant attorney general (1907-1912). In 1912, he returned to Virginia, purchasing the "Clifton" estate.[4] He married Elizabeth Florence Olney, who had previously been the wife of Robert B. Crawford, sometime after 1919.[5]
He died of a heart attack in Alcudia, Spain while traveling in 1930.[6] He is buried in the University of Virginia Cemetery.[7]
Community content is available under
CC-BY-SA
unless otherwise noted.